Corn Maze & Zombie Paintball Hunting
Hartman's Corn Maze is a Mosheim Tradition and unique outdoor experience. This year everything opens at the same time, the corn maze and hayride run from third weekend in September through Halloween. The haunted maze and haunted hayride run on Friday and Saturday nights from third weekend in September through the final Saturday night in October.
Look for a Halloween Special Later this season . . .
Our 2023 Hartman's Corn Maze Reveal can be found here
Our Cost of Admission
We look forward to seeing old friends each season, along with our new visitors. For those of you who visited un in previous years, Thank You - We certainly hope all of you had as much fun as we did. We are working on some new targets and a host of new zombie features for each season. For those of you who have not visited us yet, plan on a visit soon. Please post your experience with us in our Facebook page or review us here.
Spend the Fall Season wandering through Hartman's eight acre corn maze. Filled with twists and turns, it won't be an easy task to find your way out of this one!
2023 Hartman's Corn Maze . . 
New Features For The Zombie Enthusiast
Each year we add several new features in addition to the ones added in prior seasons. For the Zombie enthusiast we introduced two styles of Zombie Paintball Hunts, Daytime hunts you will fire at hordes of animatronics zombies in our specially designed village. As darkness rolls in the evening hunt will also include live zombies along with the animatronics. In order to hone your hunting skills we also offer daytime zombie hunts with the animatronics, stationary and other targets during our normal business hours for all ages starting the third Friday Night in September.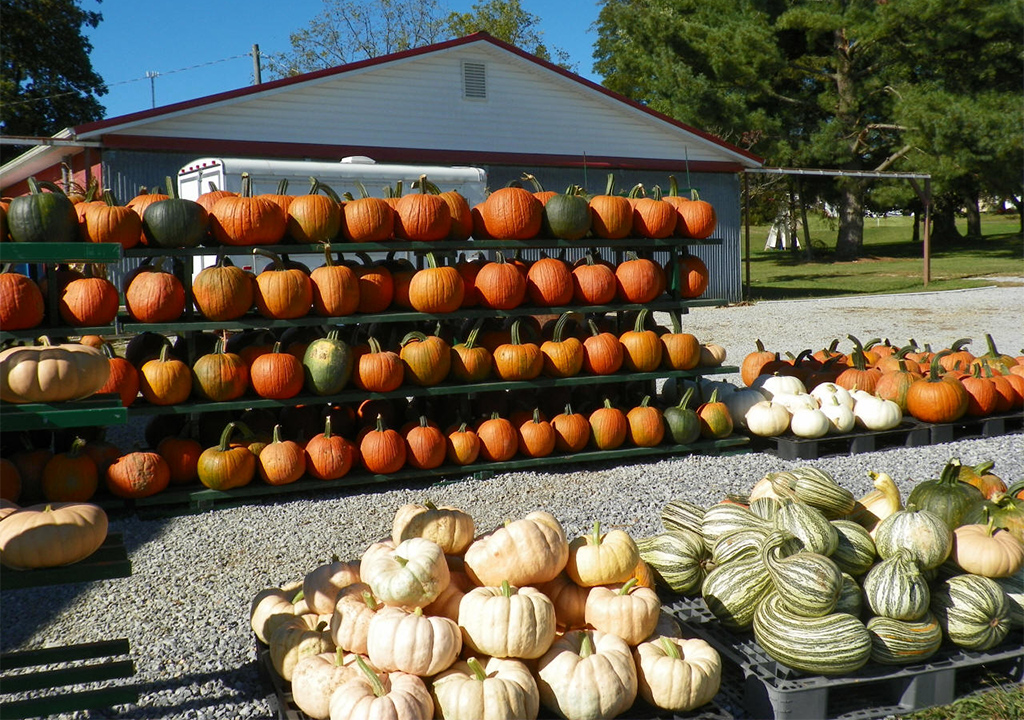 We have an online payments so you can pay online, print your receipt, email it or save it to your smartphone and get right to the fun when you arrive. Use your Debit or Credit Card, Bank Transfers or eCheck, all payments are processed though PayPal, the net's largest and safest online payment processing center.
If you are looking for a fun and unique place to have a birthday party, church or social group outing, or any other type of group outing, think about having it at the maze! We offer special discounts for groups with advance reservations and will tailor an outing that is perfect for you and your group. Just give us a call at 423-422-4836 or send us an e-mail to bruce@hartmanscornmaze.com and let us help you make that special occasion even more special! We were featured on Knoxville's WVLT TV-8 during the 2020 season viewable here - See you soon . . . .
Hours Of Operation
Corn Maze
Sept 15 through Oct 31
Thursday 4 pm to 8 pm
Fridays 4 pm to 11 pm
Saturdays 1 pm to 11 pm
Sundays 1 pm to 6 pm
Haunted Maze
Sept 15 to Oct 28
Friday & Saturday 8 pm to 11 pm
Zombie Paintball Hunting
Daytime
Sept 15 through Oct 29
Fridays 4 pm to 7 pm
Sat 1 pm to 7 pm
Sun 1 pm to 6 pm
Nighttime
Sept 15 through Oct 28
Friday & Saturday 8 pm to 11 pm
Corn Maze/Hayride – $10.00
Hay Ride Only – $5.00 | Corn Maze Only – $6.00
Haunted Maze & Hay Ride – $15.00
Haunted Hay Ride Only – $8.00 | Haunted Maze Only – $8.00
Children 4 and under are free with a paying adult
on all attractions except Zombie Hunting
Daytime Zombie Hunt – $15.00/150+ shots
Nighttime Zombie Hunt – $25.00/150+ shots
Refills – $10.00/150+ shots
All Non-Shooting Riders on Zombie Vehicles-
$5.00 per person, per trip.
NOTICE: Closed Monday through Wednesday,
except for Scheduled School Groups.
Sun

Mon

Tue

Wed

Thu

Fri

Sat

November

November

November

November

November

1

2

3

4

5

6

7

8

9

10

11

12

13

14

15

16

17

18

19

20

21

22

23

24

25

26

27

28

29

30

31

January

January

January

January

January

January
We look forward to seeing you again this year!
Thank you all our visitors, we strive to do our best to provide all our guests with a memorable pleasant experience. If at anytime you are dissatisfied, please let us know so we can correct whatever problem you may be experiencing.